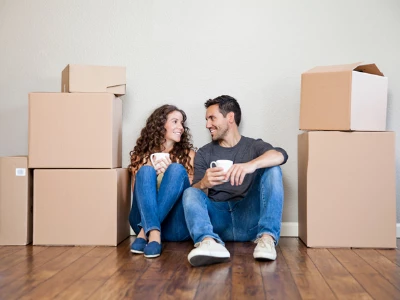 Moving in with someone can be an exciting, but also overwhelming experience. With so much to do and think about, getting a head start and keeping yourself organized will make your moving experience a great one.
Regardless of whether you are moving in with a friend or your significant other, chances are, you will have different tastes and ideas of how to furnish your new place. Some of your favorite items may not have room at your new place and you will most likely have duplicates between the two of you.
Instead of having to get rid of your things or trying to stuff it all in your new place, a self storage unit is a great storage solution to hold your prized possessions. Follow these helpful tips when moving in with someone new, using self storage.  If you have never rented storage before, check out our guide on how self storage works.
Do A Walk Though Of Your New Place
Before you start to go through your things and decide what to keep in your new place and what to get rid of, do a walk through of your new place. Take some measurements so you have a clear idea of how big it is and what would fit. Pay special attention to where windows and doors are placed as this will affect where things can go.
Gather Everything To Go Through
When moving in with someone new, your guaranteed to have duplicates of some items. Group all of your items together and make piles of your like items. Go through each pile and decide together what you will be keeping. Typically, the newest items, in the best shape should be kept.
Discuss which items are must haves in your new place. Keep in mind that pieces can be repainted or upholstered to suit both peoples' style. Compromises will need to be made by both parties.
Store/Sell/Donate/Discard
After you have gone through everything that will not be moving to the new place with you, sort it all into 4 piles; store/discard/donate/sell. Anything that is still in really good condition, but you have decided you no longer have use for can be sold. The money from these items can even go towards some new items that are still needed for your new home.
Rent A Storage Unit
If you are able to find a place big enough to fit everything, then congratulations! Otherwise, renting a self storage unit is a safe and secure storage solution when moving in with a new person. Especially if you are moving in with someone temporarily, you don't want to get rid of items that you'll want in the future that don't work in your current living situation.
At Riel Park RV & Self Storage, we have drive-up storage units, climate controlled storage units and even vehicle and RV parking. With a wide range of storage unit sizes, there is a storage unit to fit your needs. We also offer a wide range of packing supplies, from moving boxes, bubble wrap and packing paper, to mattress covers, tape and box cutters.
Our storage facility is gated and fenced with individual coded access, security cameras and mobile patrols.  We offer access to storage from 6 AM to 10 P M, 365 days a year.
Give one of our storage rental experts a call today at 780-459-6435 to find out more about our storage unit options and rental rates for all your personal storage needs. We offer short term and long term rentals on a month-to-month basis.  We also offer contactless online reservations and move ins.
Storage Space In St. Albert | Storage Units St Albert