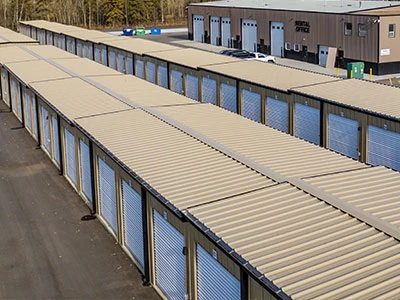 If you are considering renting a storage unit for the first time, you may have some questions. There are many reasons that people use storage: moving, selling their home, downsizing, home renovations, or for storing seasonal items. Whatever the reason you need storage, a drive-up storage unit allows you to drive up to your storage unit and store with ease.
A drive-up unit is perfect for anyone looking for extra space.  Drive-up storage means that you are able to drive your vehicle right to the entrance of your storage unit for easy loading and unloading.  Drive-up units are often described as a self-storage garage and are unheated storage spaces. 
Why Use Drive Up Storage?
Pros and Cons of Using A Drive Up Self Storage
USING SELF STORAGE FOR MOVING
A drive-up storage unit is a great solution for anyone that is moving and needs a temporary place to store their belongings.  With drive-up access, it's easy to transfer heavy or large items from your vehicle into your storage unit, minimizing injuries and damage to your belongings. 
When packing your stuff for storage consider stacking your boxes and creating walking aisles in your unit, especially if you anticipate needing some of your stuff before the full move out.  Take advantage of the extra height our 10.5' ceilings at Elite Self Storage St. Albert give you and maximize the space in your storage unit.
VEHICLE STORAGE IN ST. ALBERT
Some of our units have a low lip entry which, depending on the size of your unit, you may consider parking your seasonal car inside.  This is a great option for anyone that has an extra vehicle or lives in an apartment.  Discuss with our storage experts your storage requirements and they will help you determine the best sized storage unit based on your storage needs.  At Elite Self Storage we have units of various sizes for all your storage needs.
LEARN MORE ABOUT VEHICLE STORAGE
SEASONAL STORAGE
A drive-up unit is a great storage solution to help reduce clutter in your home or garage.  A St Albert storage unit is perfect for storing seasonal items like Christmas decorations, snowblowers, yard furniture, camping gear, skiing equipment and much more.  Anything that you would typically store in a garage or shed can be stored in an unheated storage unit.
BUSINESS STORAGE
Drive-up storage is convenient for small businesses.  Instead of trying to operate your small business out of your home or a crowded office space, utilize a drive-up unit for quick pick-ups and drop offs.  A storage unit in Edmonton is a great place for a small business to store excess inventory or marketing material.  Renting a storage unit can also help your business during a renovation or if you simply have run out of space.
Our storage facility is clean, secure and well lit.  We also have climate controlled storage units for your sensitive items.   With security cameras and mobile security patrols, have peace of mind knowing your items will be safe and secure.
Convenient & Secure Storage St Albert
Our drive-up units, at Elite Self Storage St. Albert, formerly Riel Park RV & Self Storage in St. Albert, have smooth finish concrete floors, fabricated metal walls and roof, 10.5' ceilings and 8.5' garage style doors.
Storage Units In Edmonton | Affordable Storage Options
Our drive-up units, at Elite Self Storage South Edmonton come in a variety of sizes. This storage facility in Edmonton has drive-up storage units with roll up doors and portable storage units with swing doors.
With so many options, it can be difficult to decide which storage option is best for you. Give one of our storage rental experts a call today, they would be happy to guide you through the process and discuss all of your storage options with you.