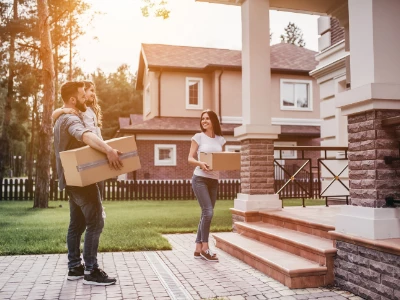 Whether you are moving from a one bedroom condo or a five bedroom luxury home, moving can be challenging for everyone. By renting a self storage unit you can rest assured that your possessions are safe and secure.
Self storage facilities are easily accessible, offer convenient access, individualized coded entry, security cameras and professional, friendly staff.  Choose the best storage facility for your storage needs.
Some of the benefits of renting a self storage unit while moving include:
Pack at Your Own Pace
Renting a self storage unit in Edmonton, prior to your move, will allow you to pack at your own pace. Start early and pack away items that you do not commonly use, but want to keep. This will help you keep organized and on schedule.
Declutter Before Moving
Renting a self storage unit will give you time to go through your belongings and declutter. There is no point packing and moving something to your new home if it's no longer needed or being used. If you are unsure if certain pieces of furniture will fit in your new home, put these items into storage until you decide what to do with them.
Keep Your Belongings Out of The Way
Perhaps you want to get the carpets cleaned before you move into your new home, or do some home improvements, such as painting. Renting a self storage unit will keep your belongings safe and out of the way until you are ready for them.
Seasonal Storage
A self storage unit is a great place to keep all your seasonal items to give you extra space in your new home. Keep your Christmas decorations, seasonal sports gear and seasonal yard equipment in a storage unit until it's needed.
Self Storage - Not Just for Personal Storage
Self Storage facilities are built with everyone in mind. Use self storage to store your business items, allowing you to free up space in your office. A self storage unit is the perfect storage solution to store excess furniture, important documents and items that are used less often.
Self Storage Helps Students When Moving
A self storage unit can be the ideal solution for a student when the end of a semester comes. Keep your belongings safe and secure while not at school, without having to store everything at mom and dad's. Self storage units are convenient and affordable as well!
Dorm rooms, typically, do not have adequate storage space. While in school, keep your snowboards and seasonal items in a self storage unit.
Self Storage Facility Amenities & Benefits
Self Storage units can be rented for short or long term periods of time. At Elite Self Storage South Edmonton, there are no long-term contracts required. Access your unit anytime from 6:00 am to 10:00 pm daily, 365 days a year. Personal access codes and security cameras add extra security.
Storage facilities often offer move in specials and ongoing discounts for military, health care workers, etc.  They also offer the use of dollies, hand trucks and carts that will assist you with loading and unloading. These amenities are also often free of charge.
Call Elite Self Storage at 780-452-8242 when you require temporary or long term storage.  Our storage facility offers competitive pricing, online payments, online move in's and reservations, great friendly staff and a great location.  We offer climate controlled units, unheated units, indoor car storage and RV Storage.
You can also rent a storage unit by coming into our office on the southside of Edmonton.  Our storage facility is conveniently located in Edmonton at 3230 97 Street.  
Stop by our rental office at Elite Self Storage in Edmonton for all your packing and moving supplies.  We have boxes, blankets, bubble wrap, locks and other moving supplies available for purchase.
Affordable Storage Edmonton
Rent or Reserve Now
Self Storage Facility | Elite Self Storage South Edmonton  | Storage Companies in Edmonton