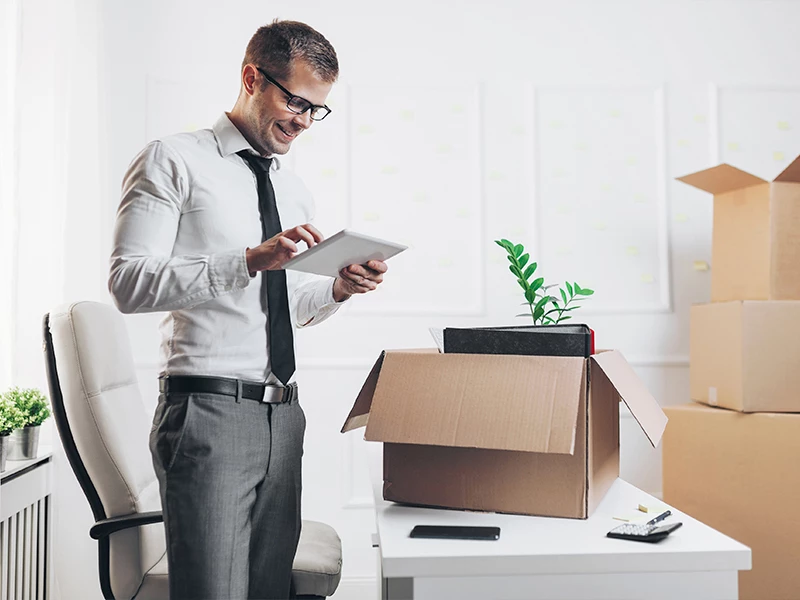 It doesn't matter whether your business has been established for some time or if you are just starting out, the chances are that your business could use a little space to grow. Having office space can greatly benefit your business.
Whether it's upgrading from a home office to a professional space or just needing a professional space for a big meeting, your business can enjoy a great boost from the ease, convenience and professional nature of renting an office space in Edmonton.
How to tell if your business needs office space
It can be hard to tell when your business needs to move on from where it started, be it your home, garage, or local cafe. There are generally a few signs that it's time to move it into a more permanent home that you can look out for.
Do you feel like you live at work?
If your home isn't feeling exactly like home anymore, but more somewhere that you sleep and work, then it could be a sign you've outgrown your space. It's important to be able to divide your work life and your home life. If the space that you've set aside for your business at home is encroaching on the rest of your life, then it's going to be impossible to find time to relax.
Moving into an office will let you be able to separate work and home life, which in turn will mean you're able to relax and refresh - coming back into the office with fresh energy and ideas.
Are you starting to hire people?
This is always a difficult stage for a business to reach, but an important one. If you're beginning to hire staff and need to be able to coordinate your new team, you're going to need somewhere for that team to be based. Renting an office can be a daunting step, but renting a fully serviced office suite with everything included in your rent such as internet and furniture is a great way to take the step with less risk.
Being able to work with your employees in the same office is really beneficial for encouraging a great company culture, being on the same-page with projects and keeping track of work.
Are you running out of room to work?
Sometimes running a business can just take up a lot of room! If your current space is overflowing with files and equipment, then it is definitely time to upgrade. Renting an office space will give you all of the space you need to store what you need for your business to function in a safe and secure way.
An office helps to keep a business organized. Working in a cluttered space is distracting and can make you lose focus. Being able to work in a tidy, organized environment is greatly beneficial to the smooth running of a business.
Are you starting to need a lot of in-person meetings?
Perhaps you started out being able to speak to most of your clients over the phone but now you need long and involved meetings in person. This is a sure sign you need to look at options for a space for your business to host meetings. 
Is your day filled by waiting around for business packages?
If you are spending more time waiting for deliveries than you are doing work, then your business will benefit from a solution. A parcel acceptance service will save you a lot of time and headaches of having to head to the post office, meaning you can spend your business hours working and focusing on what's important.
What are the main benefits of an Edmonton office space rental?
Renting office space can benefit your business in many ways. You can reap the rewards of having a physical location to meet your clients and list on your website. You will be able to effectively collaborate with your staff on projects and directly oversee work. You will also be safe in the knowledge that your company's equipment and documents will be held in a secure location.
With parcel acceptance services you will be able to keep track of incoming packages with ease. Finally, you will be able to grow your business in a manageable, cost effective way.
Where can you find reliable office space rental?
Finding office space can be difficult, it can sometimes come with long contracts, the expense of needing to buy furniture, and many more hidden costs. Elite Self Storage offers simple and easy office space rental here in Edmonton with furnished, affordable, fully serviced offices for rent. You can enjoy a reliable workspace when you need it without the headache of setting it up, all you need to do is to show up and work.
Call us today and come view our office spaces for rent 780-452-8242.   
Office Space For Rent in Edmonton
Rent or Reserve Now
Edmonton Office Rentals | Offices For Rent In Edmonton | Professional Office Space Rentals