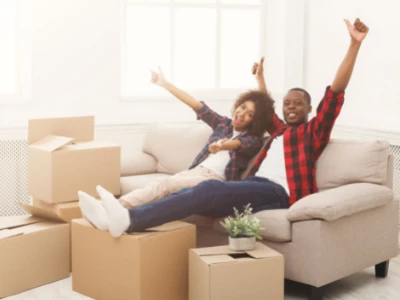 You've just listed your home for sale and expect it to take at least 60 to 90 days to sell. Your realtor has just called and you have an incredible offer with a closing date of 2 weeks from today. How on earth are you going to be packed, out and find a new place in that short a time period? Below are some suggestions to ease the stress created by accepting this offer:
Rent a storage unit in St. Albert 

Book moving truck or help to move

Pick up moving supplies

Sort what you need to keep available for temporary housing

Pack room by room and label clearly

Wait to purge at your storage unit

Take time to celebrate your good fortune
Rent a Storage Unit in St. Albert
You'll need a safe, secure place to store your stuff until you've found your new home. Storing your stuff in a friend or family member's basement or garage is not ideal and may cause friction. Pay attention to what not to store in your self storage unit. Also, determine whether your stuff will be safe in an unheated storage unit or if it needs to be stored in a climate controlled storge unit. Renting a St. Albert Self Storage unit close to your current home will make transporting your furniture and packing boxes quick and easy.
Use our online guide to unit sizes or call our office at Riel Park RV & Self Storage for assistance in determining the optimal size of storage unit for your needs. You can book your unit online or drop into our St. Albert Self Storage facility and our storage rental experts will be happy to assist you.
Book Moving Truck or Help
You will need to book a moving company ahead of time, even if you're just using them to move your large furniture items. If you are getting help from friends and family contact them to ensure they are available when you need them. If you've booked your storage unit and have access, you can move stuff in gradually.
Pick Up Moving Supplies
Pick up a good supply of boxes, tape, wrapping paper and bubble wrap, as soon as possible, to avoid wasting time popping out for more. When you have a short timeline for packing up a household, there is no time to shop around. Often, where you have rented your self storage unit, they will carry moving and packing supplies that you need to pack up your items safely.
Sort Out What You'll need For Temporary Housing
Before packing up a room sort what you will need to keep available for temporary housing and pack it separately and last. For example, in the bathroom you'll need to keep your hygiene and daily use items separately.
When you have secured temporary housing check to see what items you will need immediately and what can wait. You can always visit your storage unit to pick up items that you'll need as time passes. When moving into your storage unit make sure that any maybe items are stored near the access door.
Pack Room by Room and Label Clearly
Once you have separated out the items in a room that you know you need, pack up the room. Label each box clearly with the room and an idea of what's in the box. You can repack in your storage space later if needed.
Transport packed boxes to your rented storage locker when you've completed packing for the day. Having these items out of the house and in a secure location will ease a lot of the tension and give you a sense of accomplishment when a room has been cleared.
Wait to Purge at Your Storage Unit
Until you know what you'll need when you find your permanent new home, delay purging items. You can always start the purging and sorting process while your stuff is in the storage unit, repacking as you go. Remember to use the 'Keep', 'Maybe', 'Donate' and 'Toss' bins.
Take Time to Celebrate
Take the time to celebrate your good fortune in selling your home so quickly. Don't dwell on how little time you have to get everything done. Create a plan and stick to your timeline and you'll be fine. Self Storage can be a significant help in easing your transition from one home to another. Enjoy the adventure wherever it takes you.
No Games, No Gimmicks, No Hidden Fees | Store Your Belongings With Us!
When you rent storage in St. Albert at Riel Park RV & Self Storage you get a full months value as we bill on a monthly billing cycle.  Don't be fooled by some of our competitor that bill in 4 week or 28 day cycles as this costs you more!
Call one of our storage rental experts now at 780-459-6435 to reserve your storage space today!
St. Albert Self Storage Rentals near Edmonton
Rent or Reserve Now
You Can Trust Our St. Albert Self Storage | Storage Locker Rentals