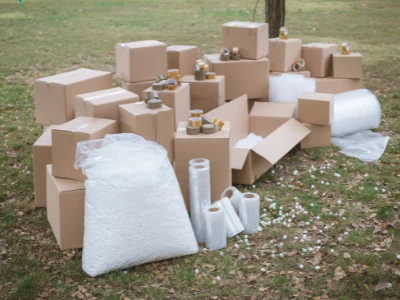 There are a lot of things that need doing when you are packing and moving. If you think that all you need is a few boxes, it's time to reconsider what you will need. Having the proper packing and moving supplies will make your move less stressful.
We have created a list of essential packing and moving supplies that can help you prepare for your successful move.
Boxes Consider New

Packing Tape 

Bubble Wrap

Packing Paper

Stretch Wrap

Marking Pens

Mattress Bags and furniture bags

Use Plastic Garbage Bags and Zip Lock Bags

Box cutter or utility knife
Boxes Consider New
Moving boxes come in a variety of sizes. Pack heavier items, such as books, silverware, tools and canned goods in a smaller one. Large boxes are best for lighter items, such as pillows, blankets and towels. Medium size boxes are ideal for pots and pans, small appliances and lampshades.
Remember to pack your boxes and use packing paper or linens to pack the box full.  At Elite Self Storage we have moving boxes starting at 1.5 Cubic ft (small) and other sizes.
You might wonder how many boxes you will need. The more rooms you have, the more boxes you will need. A good rule of thumb to follow is that a typical three bedroom house will require 70 - 150 boxes.
Here are some factors to consider when determining how many boxes you will need:
If you have a lot of rooms, of course, you would expect to need more boxes. If you have lived in the house for 25 years, you would have, no doubt, collected more items.  Five people living in your house equals more items, therefore, more boxes. A larger home will generally have more personal items. If you are a collector, of course, you will need more boxes.
Used boxes are often free and easy to find.  Something to be careful of, the strength of these used boxes may be weaker as they have been used and reused. It might be confusing as to what is in the boxes if other labels are on the boxes. Label your boxes for clarity.
Everyone has their method for labelling. You might use a colour-coded system, while others may write on the box.
Wardrobe boxes are built with a hanger bar so you can directly transfer your clothes from your closet without having to fold your clothes. These boxes come in different sizes to accommodate your different clothing needs.
Packing Tape
When moving, packing tape is a necessity. The use of the wrong type could cause your box to collapse and damage your items. Look for a brand that is 2-3 inches in width. The wider, the stronger it is. Tape with a strong adhesive will stick best to your boxes. Scotch tape will not stick.
If your boxes are heading to a storage unit, you want to ensure that your tape adhesive can withstand temperature fluctuations without losing its adhesion.  Masking tape does not have strong enough adhesive and will not hold your boxes together, but it is excellent for labelling.
Bubble Wrap
Bubble wrap is a great packing tool for wrapping fragile and sensitive items. Bubble wrap comes in a variety of sizes, lengths and widths. Bubble wrap is one of the best ways to protect your items. It is lightweight and flexible. Bubble wrap is used on things, regardless of their size and shape.
Choosing the right bubble type is paramount.  Match the bubble wrap size to the dimensions you are packing.  There are three sizes:
Small Bubble Wrap: good protection for light or fragile products.
Large Bubble Wrap: enhanced protection for delicate, heavy and irregular shaped products.
Extra Large Bubble Wrap: high performance protection for wrapping during transit and storage.
At Elite Self Storage, we have bubble wrap available for purchase in our retail store.
Packing Paper
Packing paper is another tool for wrapping fragile and sensitive items. Although, not as good as bubble wrap, packing paper is a less expensive alternative. If you choose this packing paper option, acid-free, ink-free paper is ideal for protecting your fragile items, such as glassware, dishes and other valuables.
Stretch Wrap
Stretch wrap is one of the best solutions for packing fragile items. Use it for securing drawers, couches, and anything you need to keep in place. Stretch wrap is also ideal for holding things together, such as brooms, mops and garden tools.
Marking Pens
Purchase good quality coloured pens to use for labelling. If you prefer a colour-coded system for labelling, designate one colour for each room of your house. You can also use colour coded labels in tandem with your marking pens. A red marker can be used for marking fragile items.
Create a master list for all of your boxes. The master list will assist the moving company in knowing how to pack the moving truck. Being organized will help on your moving day.
Mattress Bags and Furniture Covers
Mattress bags and furniture covers keep the dust and dirt off your mattress and box springs during your move. These heavy-duty bags also protect from moisture and provide protection from pests, such as mice and bed bugs.
Use Plastic Garbage Bags and Zip Lock Bags
Use plastic garbage bags for clothing, linens, soft toys and other non-breakables. Plastic Garbage bags are less expensive than cardboard boxes and can be used again later. Thick, black garbage bags are the best, as they can carry more weight and have less chance of tearing or breaking. Be sure to label the garbage bags, as you may end up tossing them away as trash.
Box Cutter and Utility Knife
Box cutters open boxes, cut through the packing tape, straps, shrink wrap and more. A box cutter or utility knife is an essential tool for moving and packing.
Following these 9 tips on must have moving and packing supplies will assist you with your move. At Elite Self Storage, we are here to help!
With climate controlled storage and unheated drive-up storage, we offer a clean and secure storage solution.  Give one of our storage rental experts a call today at 780-347-0433 or rent a storage unit online. 
Let's discuss the benefits of using self storage when moving.
Stop By Elite Self Storage For All Your Moving Supplies
Storage North Edmonton | Storage South Edmonton | Storage St. Albert
Rent or Reserve Now
Packing Supplies | Moving Supplies | Storage Near You In Edmonton | Storage Near You In St. Albert