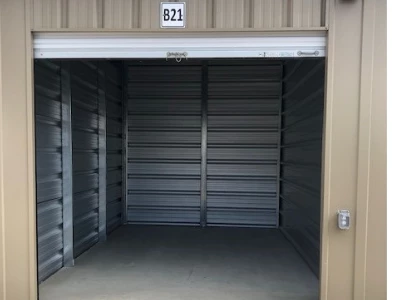 Whether you're looking to do some decluttering around your home, are moving, or looking to store a seasonal vehicle, a storage unit is the best solution for securing your belongings.
Self-storage units are available in a variety of sizes. From closet sized units to storage units that can fit an entire five-bedroom home, there's a storage unit to fit your needs. Most people are surprised at how much they can pack into a storage unit.  At Riel Park RV & Self Storage, all of our drive-up storage units are 10.5' high inside which make them great for stacking.
Getting the right size storage solution for your needs is very important. You don't want to get one too big as then you are wasting money on space you don't need, and you also have to be careful not to get one too small so that you don't run out of room after you've already loaded most of your stuff into your unit.  At Riel Park RV & Self Storage we make is easy to transfer into a smaller or larger storage unit, should your needs change.
Here are some tips and tools to help you pick the right self-storage unit for you.
STORAGE UNIT SIZES
Small Storage Units
5'x5' Unit
These are closet sized units and are perfect for storing seasonal decorations, rarely used items, seasonal clothing or small furniture.
5'x10' Unit
These are the size of a walk-in closet. Perfect for storing the contents of a small apartment or dorm, or for business supplies and records.
Medium Storage Units
10'x10' Unit
About the size of an average bedroom. They can hold the contents of a one-bedroom apartment. Also, a good size unit if renovating and needing to store the contents of a room or two until the renovation is completed.
10'x15' Unit
A little smaller than a one car garage. Good for storing the contents of a two-bedroom apartment including appliances, boxes and furniture.
Large Storage Units
10'x20' Unit
About the size of a one-car garage. A good choice for a large two-bedroom home or small three-bedroom home. They are also capable of storing your classic car or seasonal vehicle over the winter. These storage units are also ideal for excess business inventory.
10'x30' Unit
These are usually the largest units at most facilities. A little smaller than a two-car garage. You should easily be able to fit the contents of a four- or five-bedroom home. Also, a good option for storing 1 vehicle plus extras, such as, motorcycles, seasonal items and outdoor equipment.
TAKE AN INVENTORY
Before you do anything, take an inventory of everything you plan on putting in your storage unit. Estimate how many boxes you will be storing and measure your larger items such as, furniture and appliances. Also, make note of irregular shaped items that cannot be stacked, like exercise and lawn equipment.
Take into consideration your future needs as well. If you think there are some items that you may be storing later on, add these to your list so you choose the right storage unit to accommodate your items now and in the future.
HOW LONG DO YOU NEED THE UNIT?
In order to select the proper sized unit for your needs, you will also need to factor in how long you will need the self-storage unit for. If you only need storage for a short period of time during a move, then you can pack your unit from wall to wall and floor to ceiling. If you will be needing storage for a longer period of time, you'll want to consider making sure that you can make an aisle in your unit so you have easy access to your items. You'll also want to pack it a little less full to provide for more ventilation.
PACKING YOUR STORAGE UNIT
Packing your storage unit properly plays a big role in what size you will need. When packing up your belongings, make sure to use good quality sturdy boxes or totes to make stacking easy.  Always place your heavier, sturdier items on the bottom and lighter, fragile items on top.
Consider using shelving to stack your boxes in to save space. Also, utilize any empty space in your furniture to store your belongings.
If you will be needing your storage unit for a longer period of time, make an aisle so you can walk through your unit and find what you need.  Make sure to place any items that you may need regularly at the front of your unit for easy access.
At Riel Park RV & Self Storage, our friendly staff is always happy to help you choose the right size unit for your needs. We can show you some storage units to help you better visualize the size you need.   Our storage facility offers both climate controlled storage units and drive-up unheated storage units.
If you prefer to reserve a unit online, our storage unit size guide can help you choose the size of storage space for your needs.  Contact us today with any questions or call one of our storage rental experts at 780-459-6435 and they will be happy to answer any of your questions.
Storage Unit Rentals Near Edmonton, AB
Rent or Reserve Now
St Albert Storage | Easy & Affordable Storage | Storage Options Near You