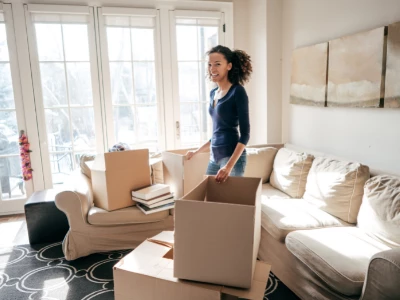 Packing up your home and moving can bring on a lot of stress. With so many moving parts, it can be overwhelming. By making a plan and following these tips, you can cut down the stress of the move considerably.
Create A Moving Checklist And Schedule

Stock Up On Moving Supplies

Purge Before Packing

Start Early

Pack Properly

Get A Self Storage Unit
Create A Moving Checklist And Schedule
Not having enough time to get everything done can cause serious stress when moving. Not organizing a move is one of the most common mistakes people make. By creating yourself a moving checklist for yourself, you can plan out your time and keep things on track.
Be realistic on what can get done in a day. If you make it a priority to stick to the schedule you've created, you'll be ready to go by moving day.
Stock Up On Moving Supplies
There are 7 essential packing and moving supplies.  Stock up on boxes and packing tape, as there is nothing worse than running out of these while packing. Always pick up more than you think you will need. Most of the time, enough boxes are not picked up as you don't realize how much stuff you really have until you start packing it up.
You will need bubble wrap and packing paper for your more delicate and breakable items. Keep in mind that the kitchen will need a lot. Do not use these items sparingly. Using a little extra packing paper or bubble wrap to make sure your items are properly protected, can go a long way towards reducing stress when you unpack.
You don't want to show up at your new home and find all of your fragile items broken. Also fill any gaps between items in every box with packing paper or bubble wrap to prevent your items from moving around inside the box.
Pick up a few box cutters and sharpies, so you have multiples going while you're packing, as they can be easy to misplace.
Purge Before Packing
The number one mistake lots of people make when moving is not going through everything and purging first. By purging first, you end up needing fewer moving supplies, have to move less on moving day, and won't give yourself a headache at your new home trying to find space to store items you no longer use.
Get rid of or donate items that haven't been used in the past couple of years and sort through clothing that no longer fits or is in rough shape.
Start Early
As soon as you know your moving date, call all your utilities to get everything switched over.
Make a list of places you need to call to change your address. You will most likely forget a few, so go to a post office and get anything you may have missed, rerouted to your new home.  This is a great resource to take advantage of to make sure you don't miss any important mail. When any mail gets rerouted to your new home, you can then call the sender to have your address changed.
If you plan on using a mover, call around immediately when you know your moving date. They can book up fast, so you want to make sure you can get movers on the day needed.
Pack Properly
Don't overpack boxes. This not only makes them bulge and hard to stack, but you risk damaging your items as well.  You can also check out our guide on how to properly pack your boxes.
Take advantage of the space in dresser drawers and suitcases. Use towels and linens as extra padding when packing breakable items.
To make boxes easy to move, make sure to always put heavy items in smaller boxes and your lighter items in larger boxes. All of your boxes should be able to be moved easily by one person.
Rent A Self Storage Unit
Renting a self storage unit when you're moving is a great way to relieve stress. You can start moving items into it right away. This gives you less to move on moving day and gives you the time you need to move into your new home at your own pace.
At Riel Park RV & Self Storage, we have drive-up access storage units, as well as climate-controlled storage if you are storing more delicate items. Visit our office to stock up on all of the packing supplies you will need.
Give one of our storage rental experts a call today at 780-459-6435, or rent or reserve a storage unit online today.
St. Albert Self Storage Unit Rental Near You | Household Storage Solutions