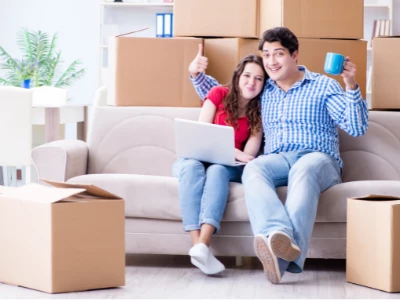 If you find yourself in between homes and need somewhere to put all your belongings, a self storage unit is the perfect solution. Self storage units are cost effective, clean, safe and secure.
Follow these tips on how to pack up your house for storage and find your items exactly as you left them.
Create An Inventory

Use The Proper Packing Supplies

Research What Cannot Be Stored In A Storage Unit

Prepare Your Items For Storage

Pack Your Boxes Properly

Label Every Box

Pack Your Storage Unit Properly
Create An Inventory
Creating an inventory list of all the items you want to store is essential, especially when you are packing up your whole house for storage.
Make at least 2 copies. Keep one with you and one at the front of your storage unit.
Having a detailed inventory of everything that you have in storage is also a great idea if the worst happens. If something, like extreme weather, affects the contents of your unit, you have a detailed list of everything to give to the insurance company and can easily proceed with a claim.
Use The Proper Packing Supplies
Make sure you have the proper moving supplies when packing up your belongings, especially if you are storing for an extended period of time.
Pick up some moving boxes instead of trying to find used boxes. Using used boxes tend to not be as sturdy and you run the risk of food particles being in the boxes and attracting pests to your storage unit. Make sure to get moving boxes in only 2 or 3 sizes. This will make them easier to stack in your storage unit.
Boxes are not all you will need. Pick up some bubble wrap or packing paper to protect your fragile belongings. At Riel Park RV & Self Storage, we sell moving boxes, wardrobe and mirror boxes, bubble wrap, packing paper, tape, mattress covers and more!
Research What Cannot Be Stored In A Storage Unit
Before you begin packing up your belongings for storage, do some research on what can and cannot be stored in a self storage unit. Always make sure to ask your storage facility what is not allowed to be stored.
Anything that may be considered dangerous or may attract pests, are not permitted to be stored in a storage unit. This is for protection of the employees, other customers and your belongings as well.
Some items that are not permitted in a storage unit are animals or plants, perishable items, such as food, hazardous materials/chemicals that are combustible or flammable, illegal substances, etc.
Prepare Your Items For Storage
Thoroughly clean everything before it is packed up. Even crumbs in your toaster are enough to attract pests to your unit. Everything needs to be completely dry before it is packed to prevent the growth of mold and mildew.
Vacuum all soft furniture thoroughly and treat all fabric and leather with a special furniture conditioner to protect your items and keep them in good shape while in storage.
Take apart any large furniture where possible. This will not only make them easier to move, but it will take up less space in your storage unit.
Pack Your Boxes Properly
Make sure every box is packed full so nothing shifts and possibly breaks while moving. Use soft items or packing paper to fill any gaps in your boxes.
Even though it is important to take advantage of every last bit of space in every box, always make sure you are not over packing your boxes. This can cause them to bulge, making them harder to move and possibly cause damage to your items in the box.
When packing your fragile items, use lots of bubble wrap or packing paper to protect your items.
Label Every Box
Remembering what is in every box is nearly impossible and if you need to get something while your items are in storage, having your boxes labeled will save you a lot of time.
Label each box with the room it belongs in and the main items in the box. Use a permanent marker and label on at least two sides of the box.
Pack Your Storage Unit Properly
Put pallets on the floor of your storage unit to increase air flow. If you are not able to get your hands on any pallets, you can also lay a tarp over the floor of your unit to protect your items from moisture.
Put all heavy items and boxes on the bottom and lighter, fragile items on top.
Create an aisle down the middle of your rented storage unit so you can easily access your items and put the items you may need closer to the front.
At Riel Park RV & Self Storage, we have drive-up access storage units in a variety of sizes. Drop into our office and check out the variety of packing supplies we offer.
For extra storage in St Albert check out Riel Park RV & Self Storage. Give our expert staff a call at 780-459-6435 to discuss your storage needs or rent a storage unit online.
Packing Supplies in St. Albert | St. Albert Self Storage Near You | Moving Supplies