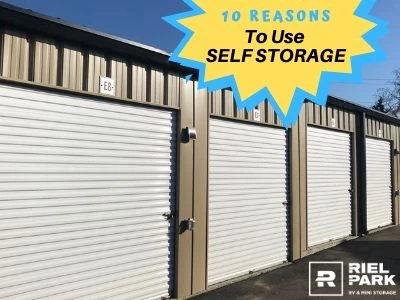 Home owners and renters are using self storage units to store extra things that they have no space for at home or for when life unexpectedly changes. 
Need a place to store your belongings when your house sells and you have not yet found the perfect home or your possession date doesn't quite line up?  Has your small business inventory taken over your home?  Whether it's for a home renovation, a growing business, or for holding extra stuff, a storage unit may be the answer for you.
Self-storage provides space and protection to store your valuables. 
Here are other ways a self storage rental can help:
1)  MOVING TO A NEW HOME OR DOWNSIZING
Whether you are decluttering your home to sell, storing your belongings while in between homes or downsizing for retirement; renting a self storage unit can help ease the stress of moving.  It will give you extra time to move at your own pace rather than all at once, especially if purging is involved.
2)  HOME RENOVATIONS
Renovating or remodelling your house can be exciting but stressful.  Not sure what to do with all your stuff so it's not in the way?  A Self Storage rental can help when renovating as it keeps your belongings protected and out of the way of dust and debris, that always seem to accumulate, when construction is happening.
A self storage unit is also a great location to store items that have been purchased for the renovation that cannot be placed in their location yet.
3)  TRAVELLING THE WORLD/SNOWBIRD
Travelling for an extended period of time?  Instead of worrying about your belongings and your vacant house getting broken into; a self storage unit gives you the peace of mind knowing your belongings are located in a secure environment.
4)  SEASONAL ITEMS
Avoid cluttering your garage or shed with stuff you don't need throughout the year.  A Self Storage space is an affordable and convenient option to store all your seasonal items.  As the seasons change, rotate the items you store.  It's important to keep an inventory of your items in storage so that you avoid purchasing items that you already own.
5)  A GROWING FAMILY
Babies require a lot of preparation, especially if it is your first.  Self storage is perfect for storing furniture you may currently not need if you are converting an existing spare bedroom into a nursery.  Planning on having more children or grand children?  Self Storage is great for storing cribs, play pens, baby chairs, bassinets, and car seats for when you need them in the future.
6)  CHANGES IN LIVING ARRANGEMENTS
Newly married or moving in together and merging two households?  A storage unit is great for storing those treasured items that you just don't have room for when merging two households.  It's also great for storing items that you're not sure of; it gives you time to decide if these items should become part of your household or if they should be sold, given away or donated.
7)  PASSING OF A LOVED ONE OR DIVORCE
Divorce and passing of a loved one are, unfortunately, things we must face which can be painful and traumatic experiences.  In case of a loss, you now are faced with having to go through belongings and figure out what to do with them.  Self Storage gives you a place to store these items so that you can go through them when you are emotionally ready.  
8)  STORING BUSINESS INVENTORY OR RECORDS
No place to store your business records, inventory or seasonal furniture?  Self Storage can be an affordable option instead of renting additional office or warehouse space for these items.
9)  STUDENTS
Moving home for the summer and have too much stuff to store at home?  Renting a storage unit over the summer is a great short-term storage option.  The storage unit will give you extra space and time to go through your stuff and decide what needs replacing, what serves no purpose and what needs to be purchased before going back to school.
10)  SIMPLY RUNNING OUT OF SPACE
Have you accumulated too much stuff over the years?  Consider decluttering your house and renting a storage unit for all your valuable items you can't live without.
St Albert Self Storage is a great short or long-term solution for all your personal or business storage needs.  At Riel Park RV & Self Storage, we offer you an unbeatable combination of storage, service, security and savings.  With a wide variety of storage options, give one of our storage rental experts a call at 780-459-6435 to discuss your storage needs.
Clean & Secure Storage St Albert | Storage in St. Albert