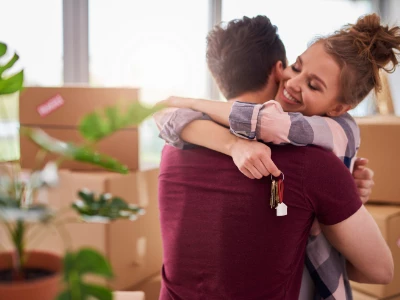 You have taken a big step in your relationship and have decided to move in together. Congratulations! Moving in together is a fun, exciting time, but it can also be a stressful time.
Like any move, moving in with your partner requires planning and takes some time to get organized.  Self storage can be an advantage to couples who are moving in together for the first time.  
Here are some ways self storage can help make your transition smoother:
1. Take Inventory & Declutter
2. Store Sentimental Items Instead Of Getting Rid Of Them
3. Pack Together
4. Compromise
Take Inventory & Declutter
When moving in with your loved one, you may find that you have some duplicate items. Now is the perfect time to prepare a list of what you have or what you may need. Make a list of duplicate items and decide on which items you wish to keep, get rid of or store.
Keep communication lines open so that no one's feelings are hurt when you start decluttering.  Renting a self storage unit will help keep your duplicate items safe until you decide what to do with them.
Store Sentimental Items Instead Of Getting Rid Of Them
A self storage unit is a great place to store your sentimental items.   Your new living space may not have room for all your sentimental items that you are not ready to get rid of.  Using storage for some of your sentimental items will free up space in your home.
A climate-controlled storage facility provides a safe and secure environment for all your belongings. Packing your belongings in similar sized boxes and labelling them help you when you need to find something. At Elite Self Storage, we sell a variety of box sizes and packing supplies, such as bubble wrap, tape and packing paper to make your packing simple.
Pack Together
Packing together will help you decide what items you are taking to your new place.  Go through your clothing, as your closet will be a shared space. Donate, sell, or store seasonal items. Not only will you help each other, but it will also be a fun activity to do as a couple.
If you find you have too much stuff, consider renting a self storage unit in Edmonton for extra storage space.  At Elite Self Storage, we have storage unit sizes ranging from 3.5x4 to 10x20.  We offer climate controlled storage units with access from 6:00 am to 10:00 pm, seven days a week, and individual access codes for safety and security!
Compromise
Learning to compromise is important in all relationships. You will need to compromise about what items you want to keep.  You and your partner might not have the same taste in decor and will need to make compromises for each other.  Keep communication lines open and positive. Ensure that you both have personal space and express what that space means to each of you.
At Elite Self Storage, we offer affordable, competitively priced storage units in a variety of sizes that will assist you when moving in together.  Our friendly, knowledgeable storage rental experts are here to help you with all your personal storage needs. We also offer Instant online reservations with online payment options to help make your storage rental as stress-free as possible.
Call an Elite Self Storage Facility Near You
Elite Self Storage South Edmonton | 3230 97 St, Edmonton, AB  780-452-8242
Elite Self Storage Riel Park | 7 Riel Drive, St. Albert, AB  780-459-6435
Storage Unit Edmonton
Rent or Reserve Now
Storage Options | Storage Solutions | Edmonton Storage Near You | Elite Self Storage Riel Park