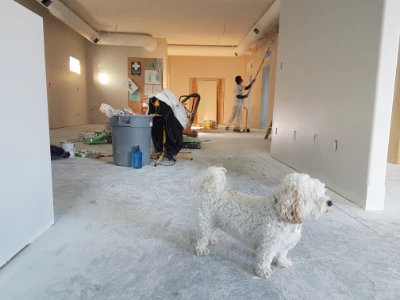 Home improvement projects can be an exciting time for you and your family.  However, the renovation process can be overwhelming and stressful at times.  It can also temporarily disrupt your life. 
The more planning you put into the project before you get started, the better.  To get your renovation project done as efficiently as possible, you'll want to remove everything from the room being renovated.  Rather than creating the obstacle of keeping everything in your home, make your renovation process smoother by renting a storage unit.
A storage unit can do wonders while undergoing home renovations.  Having somewhere to keep your items secure, easily accessible, and safe from any damage will allow you to focus on your home renovation from start to finish.  Keep your mind and usable rooms clear so you can focus on the project at hand.
SECURE STORAGE FOR YOUR BELONGINGS
During renovations, your possessions could be in danger of being accidently disposed of or even stolen.  You may be surprised to learn just how many contractors and trades people can be involved in a renovation project.  Many of these people are complete strangers. 
This can be an uneasy situation for many people.  You may not always be able to keep an eye on everything.  By putting your items in a self storage unit, you can put your mind at ease knowing they are safe and secure.
At Riel Park RV & Self Storage, our facility is fenced with unique gate code access, equipped with surveillance cameras and well lit.  Our St Albert Storage facility also has regular security patrols for added security.
PROTECT YOUR BELONGINGS
Almost any kind of home improvement project can create construction dust and be extremely messy.  Your belongings can become covered with dust and debris even with the most conscientious workers.  Allow enough room for contractors to work without any obstacles or obstructions.  The contents of the room you are renovating are likely to be in the way or at risk of being damaged.  Accidents can happen like knocked over items and dripped paint. 
In order to reduce the risk of damaged belongings, it would be beneficial to move them into a self storage unit.  By doing this before hand, you can save yourself money in replacement costs in the future.
MORE SPACE TO WORK AND LIVE
If you've decided to stay at home during the renovation, it will temporarily limit your livable space.  Your home will feel congested with cluttered hallways and over-stuffed rooms if you don't remove your belongings.
By moving your belongings into a storage unit, your contractors will have more room to work and store supplies and materials necessary for the renovations.  This will give them the ability to be more efficient and get the renovation done quicker.
CLIMATE-CONTROLLED OPTIONS
Some items can be more sensitive to temperature changes than others.  Climate-controlled storage units maintain a constant temperature throughout the year.  Riel Park RV & Self Storage has storage units that are climate-controlled and are perfect for storing items such as electronics, antique furniture and musical instruments.  Provide a dry, dust free and secure environment for your items with climate-controlled self storage solutions.
ORGANIZE YOUR STORAGE UNIT
When you do decide to move your items into a storage unit, don't just throw everything into your unit.  You may want to access your items while they are in storage so it is important to keep it organized.  Keep anything you think you may regularly access by the front of the storage locker. 
Make sure to get a unit big enough to create an isle so all items can be accessed.  Renovations can typically take longer than initially planned so you'll want to prepare for this and keep your storage unit clean and organized.  This will also get rid of some stress throughout your renovation and be a smoother process when bringing your items back into your home.
AFFORDABLE STORAGE
Renting a self storage unit is an inexpensive option to keep your belongings safe and secure during the renovation process.  Home renovations can take weeks to months to complete. 
At Riel Park RV & Self Storage, we offer month-to-month rentals with no long-term commitments to best suit your needs.  The last thing you want to worry about is the condition of your belongings and unexpected expenses that could arise if they were damaged.  The cost to replace these items can be easily avoided by storing at a storage facility.
Prevent future headaches and sacrificing space in your home by storing your belongings at Riel Park RV & Self Storage for your next renovation project.  We have storage solutions of various sizes to accommodate all your storage needs.  Give one of our storage rental experts a call at 780-459-6435 or reserve a unit online.
STORAGE ST ALBERT YOU CAN TRUST | STORAGE ST. ALBERT