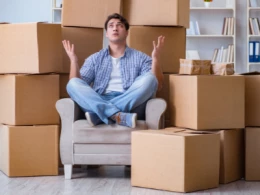 Moving can be stressful for anyone, especially if you are doing it alone. The most important thing when moving is to be organized. Having a well-established plan will help make your move go smoothly.
Here is a list of 5 moving tips for moving by yourself using self storage to help you get started:
Create a Moving Checklist

Hire Professional Movers

Start Packing Early

Pack Boxes Correctly

Rent a Storage Unit
One of the first things you will want to do is create a moving checklist. This will help you stay organized throughout the whole moving process. The earlier you start, the better, even if you start small. You don't want to have the pressure of leaving everything to the last minute.
Decide what order to pack up each room. Start with the nonessential items that you can go a few weeks without. Seasonal items and décor are good places to start.
Add to your checklist what services you need to contact so you can update them with the new house information. Figure out if you will be renting a moving truck or hiring a professional mover. You may also need to consider renting a storage unit near you for the extra space.
Hire Professional Movers
Moving alone is a tough task for anyone. If you don't have friends and family available to help, hire professionals to get the job done for you. They can do everything from packing up your belongings to setting up your new place.
Make sure you ask the moving company questions, so you know what you're putting your money into. Check online reviews to get the opinion of previous customers. All your belongings will be handled by strangers and just because they are professionals, doesn't mean you're in good hands. Once you find a reliable moving company, it will be a weight lifted off your shoulders.
Start Packing Early
It's never too soon to start packing, in fact, you will want to start as soon as possible. The essential items can be saved for last as you will need access to them before the move.
Start with items that aren't used all year round. If it's summertime, pack away those Christmas decorations and winter coats. You can go without paintings and picture frames on the walls until you settle into your new home.
Packing early will give you time to have it all done before moving day. If you leave it until the last minute, you only end up stressed and overwhelmed.
Pack Boxes Correctly
Plan out what packing supplies you are going to need. It's important to use the correct type of box when packing. Small boxes should be used for heavy or breakable items and large boxes for lighter items. You don't want your box to be too heavy and risk damaging your belongings.
It's easy to find free boxes at your local grocery stores, but you risk them being worn out and dirty. Purchasing boxes from places, like a storage facility, can be inexpensive and they will be strong and durable.
You will also need moving supplies to protect your breakables and valuable items. Bubble wrap and packing paper are great for wrapping up dishes or picture frames. You don't want to leave any gaps in your boxes. Fill them up with paper or bubble wrap. You can also use towels to fill those spaces.
Rent a Storage Unit
Renting a storage may be an added cost, but it can save you a big headache in the long run. Since you will be packing early, your home may start to feel disorganized. Instead of cluttering your home with stacks of boxes, you can store them safely at a storage facility.
Not only will your home feel less cluttered, but this will also allow you to take your time moving them to your new home. You can take boxes piece by piece as you need them. You may also be moving into a place that doesn't offer much storage space. Renting a storage unit will allow you to hang on to those items you want to keep without overcrowding your new home.
Storage For Rent Near You
STORAGE RENTALS EDMONTON
Elite Self Storage in Edmonton AB can help you with all your household storage needs.  We offer indoor heated storage units, outdoor unheated storage units, indoor car storage and RV Storage.  Our storage facility in Edmonton has a wide range of storage unit sizes, offers month to month billing with no long term commitments, no administration fees, and a full month value of storage (some of our competitors bill in 4 week cycles costing you more per year).  We also offer indoor car storage and RV storage.
STORAGE RENTALS ST. ALBERT
Elite Self Storage in St. Albert is conveniently located minutes from downtown St. Albert.  This Elite Storage facility offers unheated storage with drive up access, climate controlled storage, RV Storage and Vehicle Storage.
Mini Storage in Edmonton | Mini Storage in St. Albert
Rent or Reserve Now
Best Storage Options in Edmonton | Secure St. Albert Storage