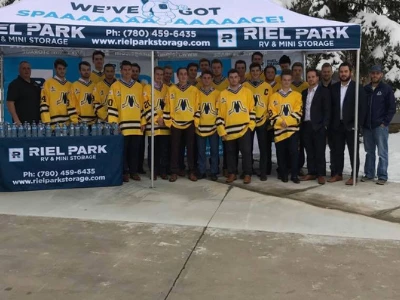 Elite Self Storage St. Albert also know as Riel Park RV & Self Storage is a proud sponsor of the St Albert Merchants Junior Hockey Team.
The St. Albert Merchants are a Canadian Junior B ice hockey team located in St. Albert, Alberta. They play in the Capital Junior Hockey League out of the Akinsdale Arena. 
The Merchants, is a non profit organization committed to providing local area players the opportunity to continue to play competitive hockey while pursuing their post-secondary education and/or maintaining full time employment.
Riel Park RV & Self Storage in St Albert, AB located on Riel Drive is proud to be part of the St Albert Community and to support this great team.   Riel Park Storage (an Elite storage facility) has supported the team since 2018.  The Merchants hockey club is committed to giving back to the community, by donating time to many community initiatives.  The Merchants Board is run by volunteers who establish and abide by a responsible budget that supports team operations.