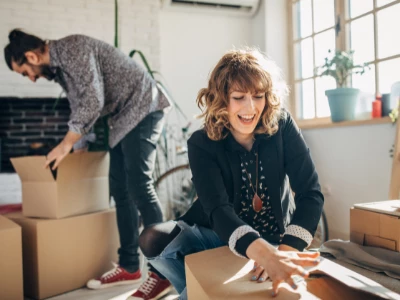 Transitioning to a new city, a new home, or even decluttering; moving your items to a self storage unit can save you time and money. The thought may seem daunting, but with these tips, your move will seem effortless.
Renting a storage unit is a great way to help you when you need extra room to keep your items safe and secure.
Here is a list of tips to help you pack.
Clean your items

Label Everything

Dismantle Furniture

Keep fragile items separate

Heavy items first

Use shelving and floor coverings

Purchase specialty boxes for special items
Clean your items
Before storing any items, wash and dry them before packing. Wipe down surfaces of furniture, removing any dirt, dust or sticky substances. Polish wood and treat leather furniture with conditioner.
Label Everything
Once you have your boxes packed, take a moment to label everything. Write a detailed list of what is in each box. Creating an inventory will make it a lot easier once you move into your new home. Labels can be colour coded or simply use masking tape with clearly marked descriptions.
Dismantle Furniture
To fit all your items in a moving truck, we suggest dismantling large furniture. Remove legs from tables and take apart bed frames.  Once at the storage facility, these items will allow you to maximize your space. It is a good idea to keep all the nuts and bolts in zip-lock bags and taped to part of the furniture, so when you rebuild, it is effortless. Take a photo of how you took the furniture apart for reference later on.
Having an organized storage unit is a must to maximize space and save you money, rent only the space you need.
Keep fragile items separate
When storing fragile items, make sure that you keep them separate from everything else. Using bubble wrap or foam peanuts for the protection of your fragile items is a good idea. Label your boxes with a colourful "fragile" label, so you know to be extra careful and do not stack heavy boxes on top.
Heavy Items First
When it is time to load your vehicle, load the heavy items first. WHY? This will help balance the weight and helps to prevent things from moving around. As you unload, you will be able to take out all your smaller items, allowing for that extra space to take out your heavy items.
If you are storing your items, put the heaviest ones on the bottom and the lighter items on top. Use blankets, pillows and towels for additional protection and fill in any gaps to avoid things from moving around.
Use shelving and floor covering
A great way to protect your items is to use shelving or pallets inside your unit. Shelving allows you to maximize the space by stacking up and keeping things off the ground. Using the same size boxes or totes will make things neat and tidy. With pallets, your belongings will be raised off the ground, protecting them from dirt, dust and other potential damages, such as water.
Purchase specialty boxes for special items
It is always best to pack computers, printers, microwaves, and electronics in their original boxes. If this is not possible, look for sturdy ones that are of similar size and shape. If you need to use a large box, line the box with pillows, blankets or sheets for added protection.
Lamps, TV's and mirrors are often odd-shaped and require specialty boxes. At Elite Self Storage, we offer a variety of specialty boxes in our retail store. Check with one of our storage rental experts for assistance on what boxes to use. 
Moving is a stressful time and asking a friend or two to help will make your move go smoother.  We hope these tips and tricks on how to pack for a move and how self storage can help, will assist you with your future move.
Remember to start packing early and do not forget, the staff at Elite Self Storage are here to help. Call us today or reserve a storage unit online.  You can also stop by our rental office for all your packing supplies at affordable prices.  We sell moving boxes of various sizes, wardrobe boxes, packing paper, bubble wrap, tape and more.
Let Elite Storage Be Your Storage Solution For An Easier Move
Elite Self Storage South Edmonton | Storage in Edmonton     780-452-8242
Elite Self Storage Riel Park  | Storage in St. Albert                   780-459-6435
Storage South Edmonton | Storage St. Albert
Rent or Reserve Now
Storage Space Near You | Climate Controlled Storage Unit | Elite Self Storage