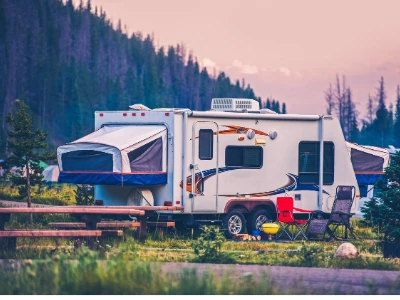 Owning an RV is a big investment and there are many things to consider before buying one, such as how will you store it. Most people cannot park their RV at home and must consider an RV storage facility. If you've never used RV storage before, it can seem a bit overwhelming. You need to research nearby facilities to find the one that best suits your needs. RV storage keeps your trailer, motorhome, 5th wheel or boat safe and secure while you are not using it.
Types of RV Storage
Indoor RV Storage
Indoor RV storage offers the most protection for your RV but is also the most expensive option.
Some places offer indoor, heated storage. Keep in mind that most of these places have a giant warehouse type structure and are mainly to park your RV over the winter and do not allow for access except for drop off and pick up. There are also, typically, size restrictions as well.
Another option is to use a drive-up access storage unit. These are not heated, but are still a completely enclosed, garage like option. This is a good option for smaller RV's, such as tent trailers and things like skidoos and ATV's. The door to the storage unit is not large enough to accommodate a larger trailer.
Outdoor RV Storage
The most common self storage option for recreational vehicles is outdoor storage. The options for outdoor storage at storage facilities can be very different from place to place. Some are just a giant field which are typically the cheapest option, but leave you open to rodent activity and the very likelihood of having your trailer stuck in the mud when you are trying to pull it out. Others offer a paved lot with designated parking spots. Outdoor RV storage is a great solution as it can fit any size RV. Although outdoor storage exposes your RV to the elements, if it is properly prepared before storing, you should have no issues.
At Riel Park RV and Self Storage, we offer a large, paved RV compound with marked, designated spots. We are fully fenced with unique gate code access, security cameras, nightly security patrols and are well lit.
Covered RV Storage
Covered RV storage is a bit of both indoor and outdoor storage. Your RV is still parked outside but is covered by a protective roof. You should still prepare your RV for storage in the same manner as you would outdoor storage, but the roof will help keep the rain and snow off of your RV.
FAQ's About RV Storage
Can I access my RV in the winter?
At Riel Park RV and Self Storage, you can access your RV anytime between 6am and 10pm, 365 days a year. We keep our facility plowed so you can have access to your trailer all year round.
Do I need to keep my RV insured while in storage?
Yes. The facility at which you are storing your RV is not responsible for anything that happens while in storage. Keep it insured to protect it if the worst should happen.
Should I store my RV with the jacks down?
Typically, this is personal preference. It is not necessary to have them down and some owners believe it is not good to have them down while storing long term. However, some prefer to have them down as it stabilizes the RV and takes pressure off the wheels and suspension.
Do I need to sign a contract?
When you bring in your RV for storage, you will need to sign a lease. Make sure to read it over as they vary from facility to facility and you want to be aware of the rules and regulations of each place.
At Riel Park RV and Self Storage, we offer both month to month and long-term contracts to suit your needs.
Prepare Your RV For Storage
When storing your RV over the winter or for extended periods of time, you must make sure to take the proper steps to ensure the protection of your RV. As the weather can damage your RV over long periods of time, it is important to prepare it properly.
Close all blinds to protect your furniture from the sun.
Cover all vents to help prevent insects from getting in and crawling throughout your RV.
Remove anything perishable and clean out the fridge and freezer. Leave the doors open and put in some baking soda to prevent an odor from developing.
Take out your battery and store it at home. Make sure not to put it directly onto a concrete surface. Always make sure to put a piece of wood underneath it when storing. Make sure it stays fully charged to prevent it from freezing.
Use an RV cover to protect the exterior and ensure the cover is breathable to prevent any mold and mildew.
Fully inflate the tires and cover them to protect them from the elements.
For a motorhome, add fuel stabilizer and change the oil before storing your RV. Top off all fluids and lubricate all moving parts. Block the exhaust and any other entrances to protect against rodents and pests.
If you prepare your RV or travel trailer properly for storage, you can be sure that when you come back to it in the spring, it will be in great shape and ready to start the camping season.
Reserve your RV Storage Space or Vehicle Parking Space today by calling 780-459-6435.
RV Storage St. Albert
Rent or Reserve Now
Convenient & Secure RV Parking & Trailer Storage | Storage in St. Albert