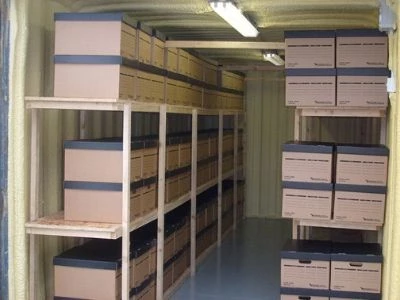 Renting a Storage Unit Can Benefit Your Business
Business storage can range from year end documents to seasonal or surplus inventory.  Documents and seasonal items can really add up, often taking up valuable space your business should be using in another way.  If you are a small business owner, whether you work from home, or have a small office space you rent; St. Albert Storage can help. 
How Self Storage Can Help Your Retail Business
Indoor, climate-controlled storage units are a great solution for retail businesses to store inventory.  It's often cheaper than using up expensive retail space for out of season or high-volume product.  Also, if your product is not affected by extreme temperatures, a drive-up unheated unit may meet your needs.
As the calendar year comes to a close you may be looking at another year of boxed documents that will take up valuable space.  Consider keeping this past year's records on site and storing the previous years, that require retention, in a secure storage unit.  This will give you more space for other items that are used on a regular basis.
Using a Self Storage Unit To Run Your E-commerce Business
If you operate an e-commerce business, drive-up or climate-controlled storage units offer optimal inventory storage solutions.  Locating a storage facility close to your home can also offer space to set up a convenient packing station and records storage.  This will allow your home office to be an uncluttered and workable environment.
Reduce Office Space
As more businesses are having their staff work from home rather than coming into an office environment daily, there is an opportunity to reduce the bricks and mortar size of your business.  Also, by using a storage unit for items not required in daily operation, you may be able to reduce the office space needed by your business.
Self Storage Can Benefit Contractors
As an independent trades person, you may often have materials or tools that you need to store in anticipation of future job requirements.  Self storage offers a safe, secure environment with access available beyond normal business hours.  Grow your construction business by renting a self storage unit in St Albert.
Self Storage Can Help Accounting & Legal Firms
Storing documents, whether they be client's tax, bankruptcy or estate documents, to name a few, take up significant space in your work environment.  Offsite secure storage is a sensible, while accessible, solution.  Whether their documents need to be held for a specific retention period or an indefinite period of time, a climate controlled storage unit is an ideal storage solution.  Keeping your clients records in a dry environment, will serve you well if these records ever need to be pulled out for an audit or court purposes.
Riel Park RV & Self Storage offers various storage unit sizes to accommodate all your business storage needs. Our storage facility offers month-to-month storage rentals with no long term commitments.  For safe, secure and convenient St Albert storage, come to Riel Park RV & Self Storage, an Elite Storage Facility.  Reserve a unit online or call one of our storage rental experts.
Secure Storage St Albert You Can Trust | Edmonton Storage